Graduation Yard Signs
Those who "Pre-ordered" their Class of 2019 Yard Sign can pick them up during Prom Walk on April 27th! (if you cannot do so, please contact a Booster Member for delivery/pick up options)
A limited # will be available for Sale the day of Prom Walk, but quantities are limited and first come first Serve, we will be set up to sell by 3:45 PM (Prom walk Begins at 4:00 PM)
State of the Boosters
Thank you to all those who came out to our Meeting last night! Just some Highlights!
As we wind down the year, here is an overview of what we have accomplished!
– The Board Approved Just over $30,000 in allocations to be paid to Teams/Clubs/Admin this year (we had budgeted for $20K)
– The Board assisted our Teams/Clubs/Activities with raising money for themselves via providing Concession Manpower (aprox $7300 raised by groups just for working the stands), Participating in Game Night ($8431 Raised directly to groups), Discount Card Sales (aprox $9000 raised by groups who sold them)
– The Board will be awarding $5,000 in Scholarships to Individual Students shortly to foster Community Service in our Graduating Seniors (This is open to All students no matter the Future Path they are on, applications for this year have closed already and were available via our College and Career Center)
-Aprox $300 worth of Spirit wear was also donated to Teams/Clubs/Local Schools for Gift Basket raffles that also allowed them to raise money!
That is a Total of aprox $52,000.00 Back to Programs/Teams/Students At Central. By any Measure, this is an amazing Achievement!
We are grateful to our Board who works tirelessly behind the scenes on operations for the Booster Club! Without them the opportunities would not be so ample!
If you want to join our Team Next Year and help to continue our Success, please make sure to get in touch! As we lose volunteers with Graduating Seniors, we Welcome Underclass Parents to join the fold!
Nominations for Exec Board 2019/2020 were made official Last night, they are as follows:
President: Bonnie Stipetic
Vice President: Heidi Bradley Alexander
Treasurer: April Fox
Secretary: Elizabeth Jiménez-Bure
The official Vote will be held at the final meeting of the year on May 1! Committee's for next year will begin meeting Mid Summer as we have an early school year start date next year! If you want to get involved, no matter your skill or availability, we can find a way for you to help!
The end of the year is now the "glaring light at the end of the tunnel" and is visible! We are Excited to support all Spring Sports and welcome all our New Coaches! We are especially proud of our Lacrosse Programs inaugural year! We know how hard so many worked to make it happen! Come watch the Boys Home Opener against Cary Grove on 4-11 on the Football Field!
Remaining Opportunities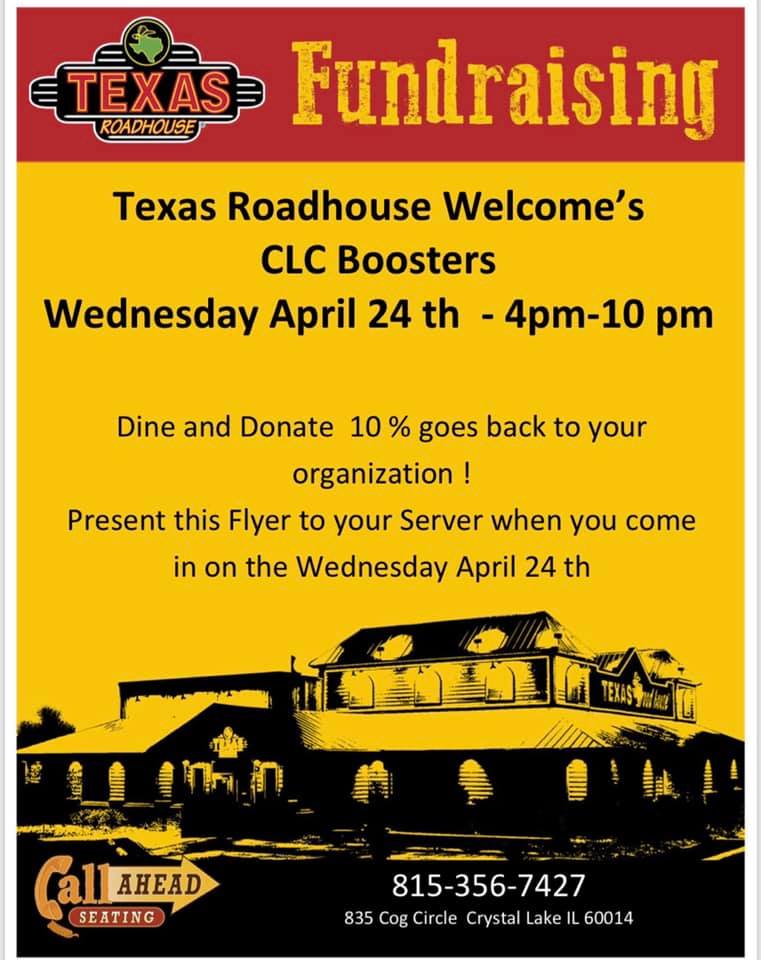 Spirit Wear Fire Sale!
Spirit Wear will be for sale at deep discounts during School in Cafeteria ON April 24-25th! We will be selling remaining stock for Cost +$1.00 to move the inventory and make way for next year's New Styles! We will also have it available during some of the Outdoor events on the Football Field! Hit us up via email if you need assistance! clcboosterprez@gmail.com