Game Night
Our annual Game Night Trivia Fundraiser was held on February 22nd. The new location at St. Elizabeth Ann Seaton Church was a great fit. We are very appreciative at all their extra efforts to help us make this event a Smashing Success. Once again this year, Julie Arndt and Corey Helm put together a fun evening with great prizes and raffle items!
We are grateful to the people who helped with set up and clean up as well. We could not pull off events like this without a lot of support and participation. We are still putting numbers together from the event and will have a wrap up during the March Booster Meeting.
Graduation Yard Signs
Class of 2020 Parents can Pre-Order a Yard sign to help show off their Graduates this year. We had submissions from CLC Students and sent the top 2 to the Class of 2020 for Voting. This is the Image we will be using this year. They are 1 sided, come with the hardware to put in the ground and will be available for Pick Up at Prom Walk! (For anyone not attending, just let us know and we can make an alternative arrangement). Order forms will be available shortly and can be mailed to school or dropped off. Cash, Check or Credit/Debit is accepted. Cost is $20 per sign. They make great decorations for Grad Parties as well.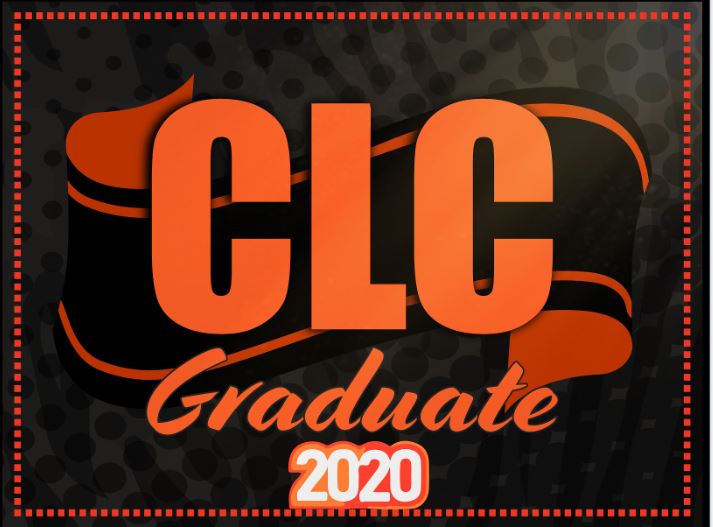 What's Left?
Indoor Concessions will end in the next 3 weeks as Boys basketball plays their final home game on 2-22, and the Indoor Track meet goes on. We then shift gears back to Outdoor Concession! We have Several Large Track Meets this year, including the McHenry County meet. This meet is a very large en devour and while the Track Parents will be working it, it is likely we will be able to utilize anyone else who wants to help out! If you would like to volunteer, please see this Sign Up Sheet!
https://www.signupgenius.com/go/60B094EADAC23A4FB6-mchenry
Thinking Ahead
During our March Booster Club meetings we will be establishing an election committee, as required by our By-Laws. All Board Positions for 2020-2021 are open for anyone wanting to be nominated. There are 4 Positions; President, Vice President, Treasurer and Secretary. We currently have people to nominate (returning board members) for 3 of those positions but anyone can throw their hats into the ring!
Please attend the March General Booster Meeting if you are interested or would like more information. Official Nominations will be in April, with General Vote at May Meeting.
Allocations
The executive Board has received the Allocation requests submitted by staff, we will present them to the Board during the Executive meeting on March 4th, Executive Board members will be able to submit questions, or obtain more detailed info at that time. During the April Meeting we will have a discussion on current finances and as President I will submit my recommendations to the full board. We will discuss and make the final vote during the May Exec Board meeting. Generally we do this sooner but with Several Large Track events that will be selling concessions we won't have the full picture until then.
Spirit Wear
We have some inventory of Spirit Wear available. You can see what we have on our Facebook page and it will be back here on our website shortly as well.
Pop Up Store
We will continue to offer Sales of Spirit Wear at Home events, the Last Basketball Home game is Tuesday Feb 22nd, and then we will have it available during Outdoor Track Season! So if you get chilly watching a meet with our unpredictable spring weather, we will have you covered! We will also do some Cafeteria Sales TBA so keep an eye out for those!
Bring on Spring!
Bonnie Stipetic